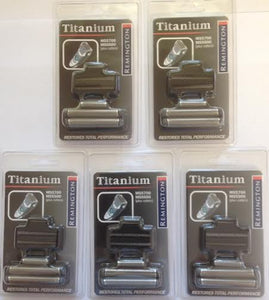 Remington Foil & Cutter Pack set to fit the MS5 range of shaver. (Five sets) STAR BUY!
This is a foil & cutter set x5. Just pop your old foil pieces out of your original frame and replace with these new ones. The old cutters should be gently levered off and also replaced at the same time. This should greatly improve the quality of shave. (Please ensure as to replace all the parts at once as any not, will most likely cause pull and drag on the skin soon after, causing a rougher and less effective shave.)
These spares should be replaced on a regular basis for optimum performance.
To fit: Remington MS5 Models MS5100, MS5120, MS5200, MS5500, MS5700, MS5800
(Models MS5-500 / MS5-700 / MS5-800 / MS5-120)
 sp96
(Post and packing is free for this order to a UK address. Sent by 1st class Royal Mail.)