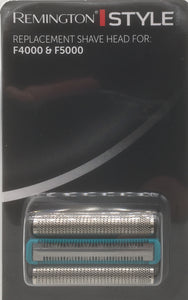 REMINGTON FOIL AND CUTTER CASSETTE TO FIT THE F4000, F5000, F6000 SHAVER
Remington Foil and Cutter cassette to fit the F4000, F5000, F4, F5 shaver.
Also fits the later F6000, F6 model.
This is a foil & cutter one piece cassette. Just pop your old one off and replace it with this new one.
These spares should be replaced on a regular basis for optimum performance.
(Post and packing to a UK address is only £2.50 for one set or free of charge if anymore than one set is ordered.)
SPF-F45, f4000, f09a, f5000, F6000, F4, F5 style series