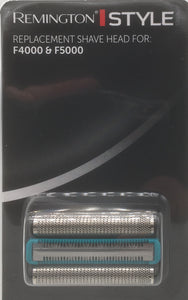 REMINGTON FOIL AND CUTTER CASSETTE TO FIT THE F4000, F5000 SHAVER
Remington Foil and Cutter cassette to fit the F4000, F5000, F4, F5 shaver.
This is a foil & cutter one piece cassette. Just pop your old one off and replace it with this new one.

These spares should be replaced on a regular basis for optimum performance.
SPF-F45, f4000, f09a, f5000, F4, F5 style series