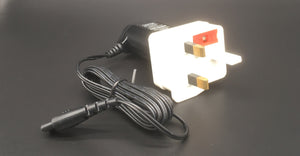 Remington charger lead to fit model R7 Ref: XR1530 complete with UK shaver adaptor.
Charging lead to fit: Remington models: R7 Ref: XR1530
This lead comes complete with a UK shaver adaptor and is able to work in any standard UK three pin plug.
Charger lead may differ from picture shown.
Please note: stand not included. The stand will also be needed to charge the Shaver for model XF1530 (R7 Remington is printed on the front of the shaver.)