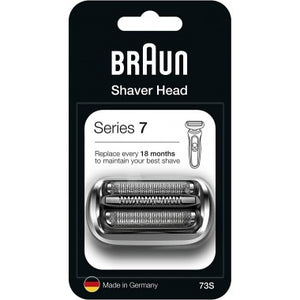 Braun (73S) Series 7 360 degree Foil & Cutter Cassette (new type only.)
This is a foil & cutter one piece cassette. Just pop your old one off and replace it with this new one.
These spares should be replaced on a regular basis for optimum performance.
(Post and packing to a UK address is free of charge on this cassette.)
To Fit: Braun 70-NI200s Series 7 360 degree shaver. Also fits Braun 70-N7200cc Series 7 360 degree shaver.
If you're not sure of your model please check with us first.
(So this is only for the new type of Series 7 shavers listed. Very important as it will not fit the old type.)